GETTING YOU CONNECTED
WHERE YOU WANT TO BE CONNECTED
"…When there is trouble with my service, it is typically resolved quickly with a text to iWisp. Overall, I consider iWisp a very customer focused company offering their product at a very reasonable price"
Rick | Customer
"…We live in the Windwood Coves Subdivision in Mineral, Va and have had Iwisp service since 2019. First it was wireless followed by greatly improved Fiber cable service. Iwisp has always provided very good service and if an issue developed, they were there to fix the problem. When Iwisp was installing the Fiber cable, their workers were always courteous as they operated their boring and excavation machinery for the installation of the cable. Tying in our home to the new installation was again a good experience requiring running and burying the home connection cable to the street connection junction…"
Thomas | Customer
"I-Wisp has definitely made a difference in our lives. We have lived in Louisa County long enough to have experienced Dial-up service, which most people living here at Lake Anna now might not even recognize. So when IWISP began serving our area it brought wireless consistency and reliability to our devices. Then we progressed into fiber service and we would never want to go back to anything else. We rarely have outages and if there are any from bad weather in some area, Sam and his crew
have fixed them immediately…"
Marge | Customer
"…I refer my clients to IWISP for their internet services because they are a family owned and very responsive provider. One of my clients has a vacation home here and often rents them. Her tenants reported that the internet service was not working and she asked me to meet IWISP there to disguise the problem. Sam met me at the home and stayed there for a few hours to correct the issues.
The squirrels had chewed through the wires and he changed all the wires and got the service back up and running. It was a long day but I enjoyed sitting there chatting with him until the job was completed. Thank you IWISP for providing great service to my home and my clients!"
Lane | Customer
"…IWISP has been great in providing wireless internet to the area. They are a wonderful family company that works hard to ensure all their customers have access to the internet as much as possible and are quick to respond to any internet issues. I live on Grand Brooks Road, it is an underserved area for fiber internet. Currently fiber internet is not offered in this area or my street and IWISP is the only wireless internet provider as well.
…I implore Spotsylvania County to assist IWISP with the opportunity for funding to provide great accessibility to the community. "
Samantha | Customer
"We have used iWiSP for about 3.5 years. They are very responsive and we have been able to stream Netflix etc and I work from home some days. So much better then our previous options! Nice family owned business."
Victoria | Louisa County
"A fantastic local business. Truly exceptional customer service that goes above and beyond to deliver reliable service."
John | Louisa County
"iWiSP provides excellent service and technical support while also keeping that attention to personal service that is missing from large ISPs."
Keith C | Spotsylvania County
"Great customer service! Very knowledgeable, caring and understanding! Highly recommend!!! Internet is fast and prices are reasonable!"
Matt | Spotsylvania County
"We have had nothing but great service from iWisp, we love it. Great company to work with, very good internet service"
Keith L | Spotsylvania County
"Reliable and fast internet service. Working great. Rarely goes down and there is always a fast response if it does."
Rob M | Spotsylvania County
"I refer my clients to IWISP for their internet services because they are a family owned and very responsive provider."
Lane M | Spotsylvania County
Check Your Area
Use the handy tool below to check the current availability on your street.
CHECK AVAILABILITY
We understand the pain slow connections and dropped signals can bring. That's why our cutting-edge fiber optic service is here to transform your online experience
Whether you're a homeowner seeking seamless streaming or a business aiming for unswerving efficiency, our fiber optic service is tailored to meet your unique needs.
Unlimited Downloads, No Caps
Professional Technical Support
Our dedicated solution powers your home or business with a point-to-point connection. High-speed fixed wireless is an innovative technology that offers scalability and reliability to your home or business in a less conventional way.
Fast Downloads, Low Latency
Professional Technical Support
Latest Wireless Technology
Custom Installation Options
Check Your Area
Our coverage areas are expanding! Set an appointment for us to check your location
Homeowners
Having a reliable and consistent internet service can impact your home life. From home offices, school work, entertainment and security devices. Having a reliable internet provider is important. You can rely on our high-speed internet options to help meet all the needs of your home.
Property Managers and Landlords
It can be difficult to keep up with multiple and recurring requests as well as complaints from your renters. You can rely on our high-speed internet service to meet their needs professionally installed so that you'll never have to worry about maintenance or troubleshooting.
With professional installation and a responsive team, we can help with immediate technical support. With our custom packages, you can choose what best fits their needs and yours.
Business Owners and Building Owners
Running a business requires internet and the tools that use it. We offer competitive packages to help support you and your business. With trained professionals we can provide custom installations, security systems, and 24/7 customer service that will help your business run smoothly and current.
Network Coverage
Find out how we can serve you best.
Check What's Available in Your Area
Check to see what is available for you.
BE EMPOWERED TO DO IT ALL
Providing Hi-Speed Internet Service where others don't.
ESTABLISHED 2009
When it comes to high-speed internet, experience matters. Since 2009, we've been at the forefront of exploring innovative and new ways to provide fast connectivity to homes and businesses in unserved areas of central Virginia.
Expert Support
Our team's experience and knowledge allow us to address any technical issue. Our continued efforts to learn, expand, and educate have given us the knowledge and power to provide the best internet and customer service in the area.
LOCAL AND FAMILY-OWNED
We believe the only thing more important than our technical skill is our neighborly service. Being local allows us the opportunity to serve our neighbors and friends. Learn a little more about us here: About Us.
HI-SPEED, HIGH-TECH
As technology continues to evolve, we're committed to staying ahead of the curve. When you choose us, you're choosing a partner that's dedicated to providing you with cutting-edge solutions for years to come.
"We live in the Windwood Coves Subdivision in Mineral, Va and have had iWiSP service since 2019. First it was wireless followed by greatly improved Fiber cable service. iWiSP has always provided very good service and if an issue developed, they were there to fix the problem."
Thomas O | Louisa County
"iWiSP has definitely made a difference in our lives. We have lived in Louisa County long enough to have experienced Dial-up service, which most people living here at Lake Anna now might not even recognize. So when iWiSP began serving our area it brought wireless consistency and reliability to our devices."
Marge L | Louisa County
"iWiSP has been great in providing wireless internet to the area. They are a wonderful family company that works hard to ensure all their customers have access to the internet as much as possible and are quick to respond to any internet issues."
Samantha B | Spotsylvania County
"I consider iWiSP a very customer focused company offering their product at a very reasonable price."
Rick H | Spotsylvania County
"We have been with IWISP for many years and they have always been very helpful and quick to respond to our needs."
Jack and Tonda M | Louisa County
Committed to Our Community




Parkinsons Fundraiser – 2023

What a great year we had for our fundraiser this year. Thank you so much for all your help to make it a record year!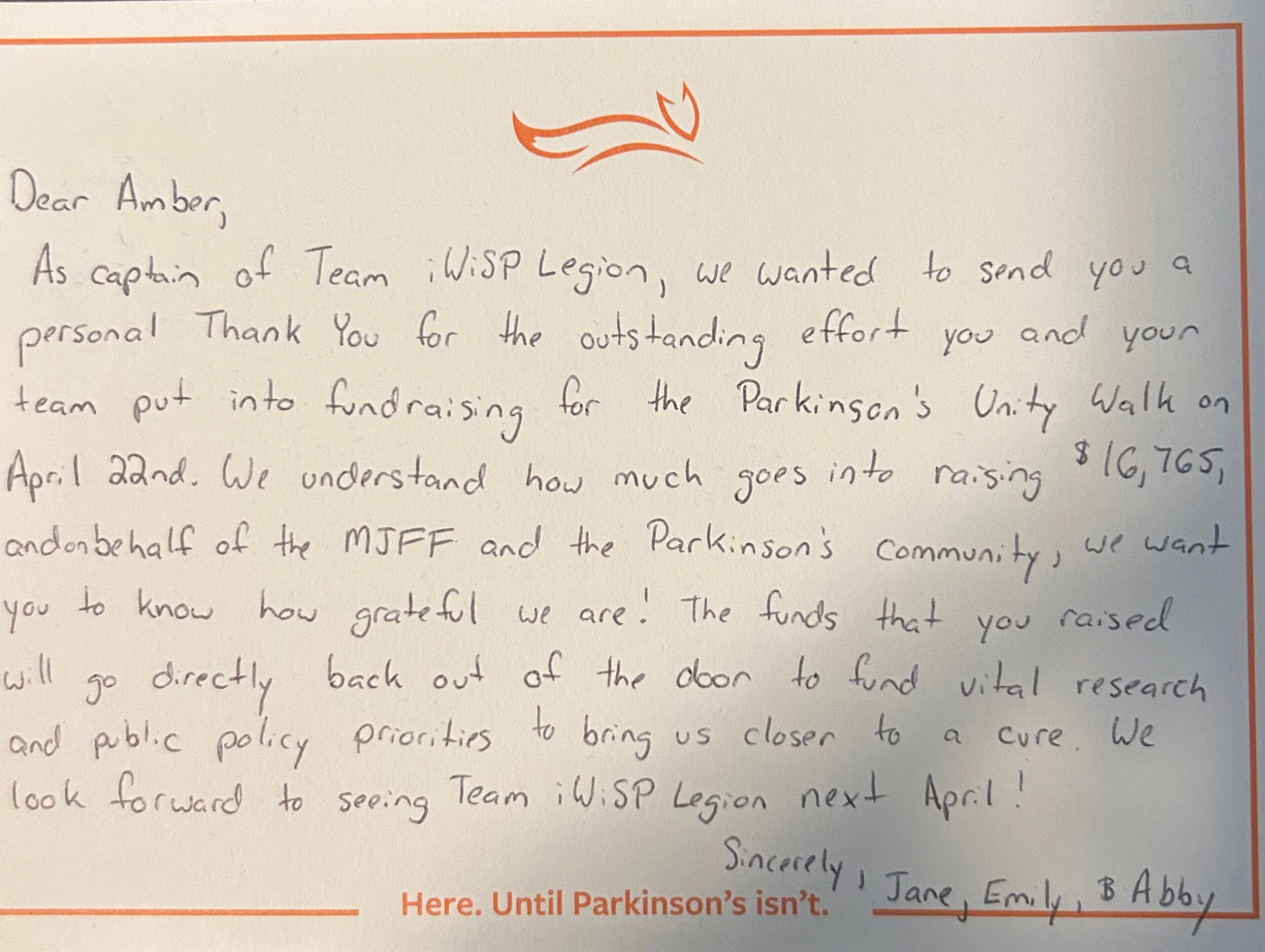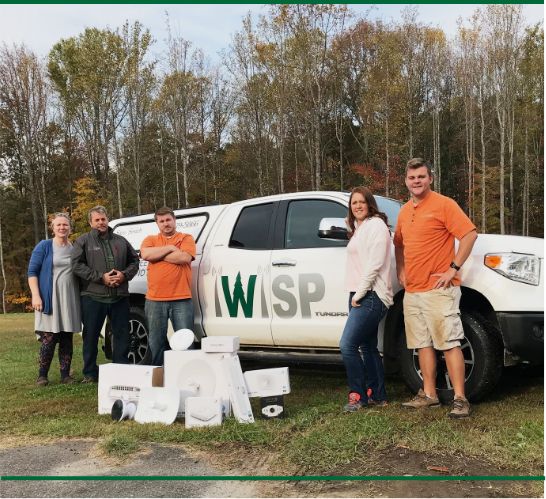 In the winter of 2008, Sam Smith realized he needed better, faster, and more reliable internet. Because most providers did not come to his area, he researched and discovered a new way for him to get what he needed… and wanted. After finding a way to establish high-speed internet to his home, he thought he could share it with his neighbors for a minimal cost to them and it would help with the overhead cost. Soon, the word was out. Now, over 10 years later he is providing internet to over 2500 homes and businesses in the rural areas of Spotsylvania, Louisa and Caroline Counties.